Saturday B and I were out heading to a Pow Wow in neighboring Richmond, KY when I saw this car that had these bumper stickers. The bumper stickers weren't of sayings, but of an image of a raven-haired beauty. I asked B who that was and he said, "Why it's Bettie Page."
"Who is Bettie Page?" I asked.
"THE pin-up queen of the 1950's and beyond," he said. Then he proceeded to tell me she had just disappeared and how she had really been mistreated by the modeling business and also that she was one of the more famous early nude pin-up dolls of the era. "There are books on her at Barnes and Noble, and I'm pretty sure you can garner some decent information off of the Internet, once you get passed all of the nude photos of course."
So, since I was feeling better today, I
did
look up Bettie Page and discovered some of the most interesting pictures I have ever seen. When the biographers have said she could be charming and demure, the very "girl next door" and then turn into a dominatrix they weren't lying!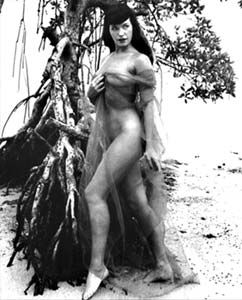 I think it is her eyes and her face.
She wasn't afraid to show what something could possibly be like, even if it was fear or sorrow or even desire and playfulness.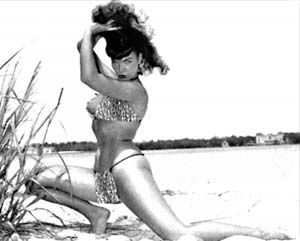 As I have researched and read, I have also discovered she is still alive and in her 80's and doesn't want any photographs of her current self shown. She says simply, "Remember me as I was...."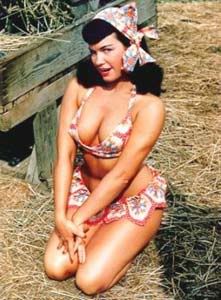 Wow.
Seeing her, seeing how she really has a body and isn't one of those pencil thin chicks we women are supposed to emulate really has given me hope. She is beautiful in these pictures and I admit I find myself wanting to look like her, except with blond hair of course (or maybe red).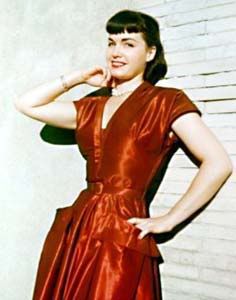 So, now I wonder ... What about Ms. Julie Newmar? Remember Catwoman before Eartha Kit?