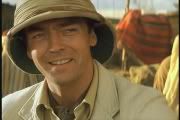 Today I adventured on a wonderful new world. It is so new I haven't even touched foot on it yet, I am still in the orbiting Earth craft and getting my briefing with the rest of the team!
Yes, I know I am the writer, the creator of this adventure, but sometimes it is wonderful to just give yourself up to the story and let it amuse you even while you are creating it. So, today that is exactly what I did. I let the story amuse me, which helped spark some questions that led to some answers that will begin the next phase of the story itself. Sometimes you just need to be an observer more than a participant in this writing business, at least it helps me.
So, there I am, outside at my little card table with my pith helmet on and my pen busy scratching away on the lined white pages of a moleskin journal as I wrote about Mac and what was happening, and thinking of things that could possibly happen in the back of my mind. My shadow was playing on the ground beside me and the dogs were laying in the shade just as blissful as me, who was happy in the sunlight.
The pith helmet keeps my head cool but breathes (it is a very good thing) and keeps the hot sun off of my head so I don't get heat stroke or heat exhaustion. As I was taking a break in the story, I raised my head to see a blond headed boy walking down the alley and looking at me quite curiously. What did I look like to him?
I smiled at him and he turned pink as he realized I had seen him, and his pace quickened until he was out of sight. The lad could have been no more than twelve. I can just imagine what he saw: a plump little woman with glasses sitting in a wheelchair almost huddled over a book of some sort she was writing in, upon her head a helmet like he had seen in
King Kong
or old black and white Tarzan movies. Was she daft? Was she full blown insane? True, those hats did look like they would keep the sun off of you, but, weren't they really just supposed to be for adventures of some sort? I couldn't agree more laddie, and today I began one of the most fun adventures I have had in a while! Yes, I am sure there is going to be trouble afoot before long, but I have my handy-dandy pen, dictionary and thesaurus, my trusty canines at my side and my powered wheeled chair to see me through! And to top it off, I have the perfect hat - I have the adventure hat to do it all in!
Life, today, was GOOD.